VSOM Chicago Dream Center Mission Trip | Update #1
April 14, 2021 | Pastor Steve Huffman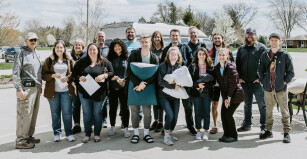 It's day one of the first mission trip in over a year! The Vineyard School of Ministry students left in the early afternoon Wednesday to head to Chicago and partner with the Dream Center for several VERY busy days. It's nice to gather together for a mission trip with 18 people who have spent the last eight months together. The bonds that have been formed made the first evening of our trip immediately impactful.
We arrived at New Life Church which partners with the Dream Center in Humbolt Park in Chicago, and we were able to get an overview of the ministries they offer. They provide outreach to the homeless, rescue women in human trafficking and prostitution, help people with addictions get their lives turned around with the help of Christ, and provide meals to the homeless and disadvantaged in the community. That's not a comprehensive list of everything they do — they have such an impact on the area because they are bringing the light of Christ to dark situations.
With each staff member we interacted with at the church, we were privileged to hear a very short testimony of their lives before Christ, how they were introduced to Jesus and what their lives are like now. Our two hosts from the Dream Center, prior to knowing Jesus, were addicted to drugs and in bad relationships. Through the outreach efforts of the Dream Center and New Life Church they are now on staff and hosting other churches to do the same outreach that made an impact in their lives. During dinner, we ate with several of the teen boys from the boy's home. A 16-year-old shared that he walked away from a gang. His transformation from deep gang activity at such a young age to now a 16-year-old with a 3.2 GPA in high school, now talking about his dreams to become a software engineer was so amazing!
As we gathered for prayer tonight, we are all ready to partner with God in the next few days. Please keep the School of Ministry students in prayer.... it's going to be a good week. :)
Pastor Steve Huffman